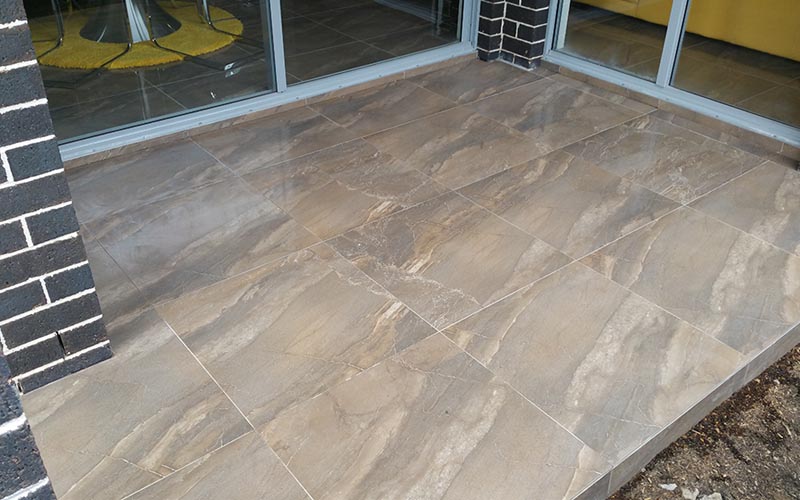 When it comes to finding the right non-slip floor treatments for your needs, there are a lot of things to consider. While many people's first thought is aesthetics, the effectiveness of the treatment being applied should also be a focus. 
There are several different treatments available to increase the slip resistance of your surfaces. These can include:
Non-slip paint
Acid etching treatments
Shot blasting
Anti-slip coating
Grinding
Adhesive strips
And more
So which is right for you? As the experts in anti-slip solutions and tile treatments, Slip Doctors Sydney explores some of these methods below to help you gather information on the best ways to increase floor safety. As effectiveness will vary depending on the surface and other factors, you shouldn't make a final decision until you've spoken to one of our expert team!
The various non-slip floor treatment methods
Increasing the slip resistance of floors can be done in a number of ways. Certain treatments provide different slip resistance levels, which is why it is vital to speak to the experts to ensure you have the right one for your needs.
Not all solutions will be appropriate for your location, which trims your options down a little. It is also important to consider your budget. The main anti-slip and non-slip treatments available include the following:
Anti-slip paint
Anti-slip paint is one of the fastest and simplest methods to reduce slipping potential. It has a quick application process and is durable enough to last you for quite a few years. It has very little downtime and provides some of the highest levels of safety and peace of mind.
This can also be a very cost-efficient solution. You can obtain a free sample before deciding whether or not this is right for you.
Acid Etching
This solution eats into the surface of your flooring, increasing the roughness and micro-porosity. There is a risk that the surface could discolour and you will need to alter the way you clean your flooring.
Coatings
Coatings are often a polymer such as epoxy or polyurethane that have a level of grit embedded in them. The slip resistance is relative to the size and packing structure of the grit, often available in varying degrees.
Shot Blasting
This method involves a material that is shot against the floor's surface to increase the slip rating. This is generally used in more industrial environments such as large commercial areas like car parks.
Grinding
This anti-slip treatment involves large diamond grinding pads which ground the surface to increase roughness. Similar to shot blasting, the aesthetics and cleanability of the flooring will be affected.
Adhesive Strips
Adhesive strips have grit embedded in them and are easy to apply but may require replacement on a regular basis. This is a customizable option for a range of different spaces but it does create a specific aesthetic that may or may not suit your tastes.
Deciding which treatment is best for you
The best way to decide which treatment is best for your situation is slip resistance and any other relevant characteristic that affects your specific floor surface's form and function. For example, these can include:
Cost
Cleanability
Mechanical properties
Adhesion to surface
Aesthetics
The effectiveness of the various treatments and coatings mentioned above is rated against the Australian Standard AS 4360 Risk Management. This provides a systematic approach to help you evaluate the various options available.
Anti-slip vs Non-slip
The terms anti-slip and non-slip are somewhat misleading as every surface will have a degree of slippage regardless of how slip resistant the surface is. This means that there may be instances on a "non-slip" surface where someone could slip and fall.
Anti-slip and non-slip should be considered a preventative measure as opposed to total slip and fall prevention. In knowing this, it is important to keep an eye out for companies or products that do, in fact, claim their treatment is completely slip-proof via a guarantee or warranty.
Independent NATA accredited slip resistance testing is the best way to confirm the slip resistance of a surface. It is recommended that this testing be performed every three months to ensure the flooring is still suitable to prevent slips or falls.
Get the answer with a test sample
There is no better way to find out if a flooring treatment will work for you then trying it out! At Slip Doctors Sydney, we'll pop out and run a test sample on your flooring so you can see first-hand if it will work for you.
This is a free service with no obligation to move forward. We want to ensure that you are not only happy with your non-slip floor treatment but that it will perform the function it is meant to. Speak to us today about organising your sample and get a definitive answer on whether or not a non-slip floor treatment will work for you.
Speak to the non-slip floor treatment experts in Sydney today
Slip Doctors Sydney is one of the leading providers when it comes to anti-slip solutions and tile treatments. With years of experience providing the best solutions for residential and commercial industries, our obligation-free quote and sample is the best way to go about choosing the right treatment for you.
We work hard to ensure you are satisfied with the chosen non-slip tile treatment to your tile. Our team works closely with you to handle the whole process of applying anti-slip treatment to your floors, giving our industry-leading knowledge and recommendations to ensure your safety.
Call us for a sample today and take the proper steps to ensure those who use your property are protected. When it comes to safety, no corners should be cut. Trust the experts for total peace of mind.