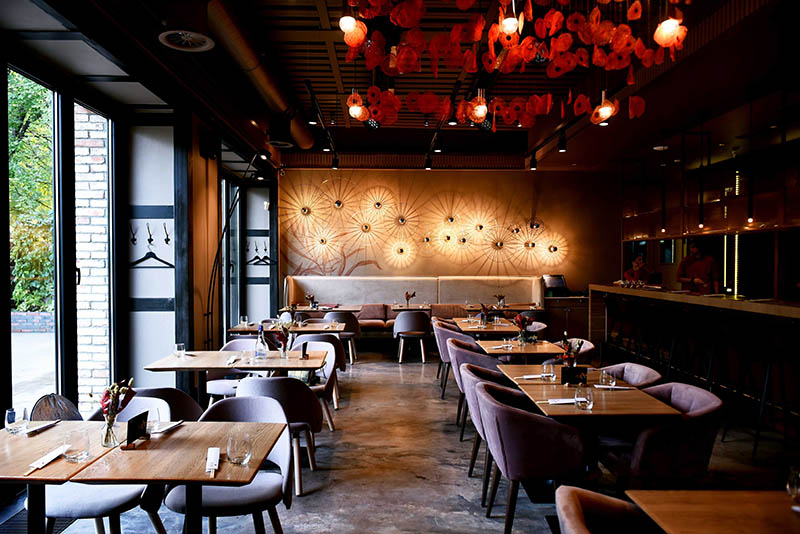 Anti-slip treatment – With slipping and tripping being the second-most common workplace injury, it is incredibly important that restaurateurs do all they can to ensure floors are slip-resistant for staff and customers. Restaurant floors and surfaces must be able to withstand heavy foot traffic. They must be safe and functional, easy to clean and maintain and provide the best look for the style and theme of your restaurant.
It is no surprise that restaurant kitchens are known for being slippery, wet and potentially dangerous areas. While chefs move about with hot items, line cooks slice and dice with razor-sharp knives and the cleaning crew uses suds and oils which can cause any surface to be slippery.
All workers require peace of mind knowing that while they go about their business they are not going to slip. And the occupational health and safety required in Australian commercial kitchens are set at a high standard. So, it is imperative restaurateurs consider their best options when it comes to their floor surfaces meeting regulatory obligations.
Before delving into the most suitable flooring solutions, let's take a look at what causes slippery floors in restaurants.
Cause of Slippery floors 
The most common reasons restaurant floors become and stay slippery are:
Wear and tear – when staff and customers walk along the same path day in day out, it creates smooth worn spots on the floor. These spots are particularly slick when wet.
Age – over time, the natural textures of floors are worn down making them less slip-resistant.
Heat – The heat from hot ovens and other equipment can damage a floor's traction.
Water, grease and more – Food, oil, grease and non-food related substances on the floor can increase slip risk.
How restaurant floors should be 
How should your restaurant floors be? Let's take a look at the attributes of a quality slip-resistant floor.
Texture – restaurant surfaces should be properly textured to provide traction for staff and customers, but smooth enough that the floors can be cleaned sufficiently.
Sanitation – the floor must be easy to clean and able to withstand harsh cleaning products.
Antimicrobial – a hot, damp and dirty surface is a breeding ground for germs. Flooring should be capable of limiting bacteria, viruses, yeast and other microbes that could grow on the surface.
Durability – the flooring should be able to withstand chips, peeling and cracks which are great hiding spots for germs.
Comfort – as your kitchen employees and wait staff are on their feet for most of their shift, the floor surface must not be cause for discomfort.
Appearance – Whether it's on the floor or in the kitchen, restaurant flooring has to look good and draw people in. It must enhance your design theme and support your branding.
Now that we know how restaurant floors should function, let's explore different types of flooring.
Commercial vinyl flooring 
Slip-resistant commercial vinyl flooring is probably the least expensive of all restaurant flooring types. It can be treated with aggregates and antimicrobial agents to promote hygiene and reduce germs. Softer than concrete or tile, it is comfortable for restaurant employees especially if it is installed over a padded foundation. Vinyl is easy to clean with a good quality floor cleaner.
Ceramic tile flooring 
Ceramic tile flooring looks nice, wears well and is easy to maintain. Untreated ceramic is porous and can be slippery when not treated. That's why it is important to have it treated with anti-slip treatment. Slip Doctors Sydney is the best in the business when it comes to increasing friction between feet and surfaces and treating floors with anti-slip treatment solutions.
It is always important to keep ceramic tile flooring clean. A quality tile and grout cleaner, scrub brush and daily cleanings are optimal for ensuring your ceramic tiles are free of dirt and build-up.
Rubber flooring 
Rubber aggregates combined with a flexible epoxy resin coating makes for the best rubber flooring. Both slip-resistant and having a cushioning effect, rubber provides comfort for employees who are on their feet all day. It also decreases dining room and kitchen noise by absorbing the sound. Easy to clean, water-repellent and naturally non-slip, rubber flooring can either be placed over the entire floor surface or added to specific areas.
Anti-slip mats 
Anti-slip mats can be placed on top of anti-slip resistant floors to make it just that much safer for employees and customers. Mats are great in areas where employees stand in one spot for extended periods of time. Often recommended in wet areas, anti-slip mats elevate the worker from slippery surfaces and allow spilled fluids to drain through the holes.
The drawback of anti-slip mats is in the cleaning. The drainage holes make it difficult to keep the mats clean. Grease, dirt, oil and food residue can accumulate and not only make for an ugly appearance but an unpleasant odour too. That's why it is important to clean each mat thoroughly by hosing them down outside of the restaurant, scrubbing with a strong cleaner and drying completely before placing them back on the floor.
Related Posts: 
Slip-resistant tiles 
Slip-resistant tiles or modular flooring tiles are interlocked to create a consistent surface. Usually made of rubber, PVC or polyurethane they are combined with aggregate to make them slip-resistant. Finishes may include knobbed, ribbed or corrugated surfaces to further enhance friction. They are beneficial in wet and high traffic areas like bathrooms or areas that have a high degree of grease output. With sloped edges, slip-resistant tiles sit directly on top of the flooring.
Concrete 
Concrete is a very strong and durable material and makes for perfect use in high traffic and high use areas. With proper cleaning and maintenance, it is difficult to damage and is resistant to scratches and chips, so your restaurant will always look clean, modern and fresh in the years ahead. It can outlast vinyl by decades so you will never need to replace your restaurant floors or surfaces.
Easy to look after and clean, concrete simply requires dry mopping daily to remove dirt and debris and wet mopped regularly to keep it looking fresh and glossy.
However, some highly polished concrete floors are slippery, especially when wet. Therefore, it is important that you have the surface treated with anti-slip coating, especially in Australia which has strict workers' compensation laws. Floor anti-slip treatment coupled with high-traction footwear will go a long way to avoiding slip fall injuries amongst workers and customers.
Final note 
While being in the restaurant business can be fun it can also be risky. All restaurateurs have the responsibility to ensure that kitchen and dining areas are slip-free. To avoid the dangers of slippery kitchen and dining areas flooring Slip Doctors Sydney has developed an anti-slip treatment in Sydney that helps improve traction. Contact us today to make your floors less slippery and a lot safer for you and your staff and customers.