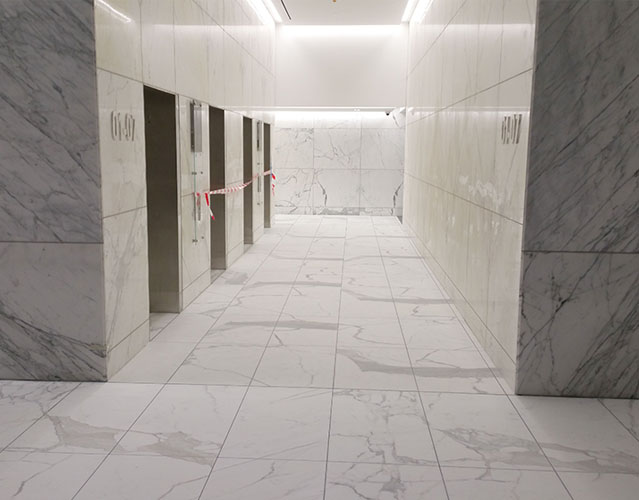 Occupational health and safety regulations in Australia stipulate that floor surfaces in all workplaces should be reasonably free of slip, trip and fall hazards. Slip-resistant flooring should actually be your top priority because it is one feature you have control over. Even if no other hazards exist that could cause a slip or fall, a slippery floor can result in an accident waiting to happen. Plus, you may not realise it but the type of flooring in your workplace plays a part in the productivity and well-being of your staff. Think about it – carpet in a toilet block or cold, hard concrete without mats behind the bar are just not 'fit for purpose'. And they can cause discomfort amongst employees.
Put simply, your floors should not only be kept in good condition and free from obstructions but designed to accommodate the type of activities taking place. Still unsure why flooring is so important? Let's take a look at the slip testing that occurs in Australian workplaces.
Slip resistant testing 
Legislative and governing workplace safety standards imposed by Australian authorities assess floor safety for slips, trips and falls. While some building owners and institutions deem slip testing unimportant it is something that must not be taken for granted. In fact, the major type of accident to occur in work environments and public places is falls resulting from slippery floors. Some falls might cause bumps and bruises, but some may lead to debilitating injury, and others can even be fatal.
Slip testing services are comprehensive, using certified instruments and methods, which qualified professional testers implement. The tests involve looking at all aspects causing slippery conditions, from construction, materials and maintenance to floor design and environmental factors. Should any of these factors be involved in untoward accidents, the responsibility rests on the building owners' and managers' shoulders. Therefore, it is incredibly important to have a slip test done.
Now, let's get acquainted with the types of flooring that are slip-resistant in the workplace.
Carpet 
A synthetic material, carpet is a cost-effective solution for preventing slips, falls and trips. It can be used in the lobby, entrance and corridors to absorb dirt, water and sound. Carpets can give your commercial space and boardroom a luxury or plush vibe. But while installing them from wall to wall, it lessens the risks of slipping, carpet has a shorter lifespan than hard floor surfaces. It can start to rip and lift in places, which in itself is cause for concern. Unfortunately, you cannot replace stained or damaged sections – you need to replace the whole floor. That's when carpet tiles might be a better option.
Carpet tiles 
A very durable and affordable way for carpeting your workplace, it is important to opt for the right carpet tiles because poor quality tiles will create a visible seam detracting from the overall look and feel of your workspace.
Porcelain and ceramic tiles 
Made from clay, sand and water, porcelain and ceramic tiles are similar in appearance. However, porcelain is denser and heavier than ceramic. Known for their durability and smooth surface, porcelain and ceramic tiles are ideal in wet and dry areas. However, opting for porcelain or ceramic with a smooth surface can result in a slip hazard. For a non-slip material, choosing the classic style without glaze is safer and slip-resistant.
However, if your preference is for the glossy, sleek look, your best option is to go for an anti-slip tile treatment. And who better to treat your floors for anti-slip is there than Slip Doctors Sydney. Achieving slip-ratings specified by the Australian Standards we discussed earlier, Slip Doctors Sydney delivers anti-slip treatment in Sydney that will last for many years to come.
Fibreglass grating 
Fibreglass grating is an excellent slip-resistant material for warehouse and factory areas where fluid spills are unavoidable. Draining away liquids quickly and easily, it can also be used in overhead platforms and walkways. Used mostly in corrosive environments to reduce maintenance costs, fibreglass grating is a structural product and not ideal for common areas such as lobbies, reception and kitchen areas.
Rubber 
Slip-resistant rubber is ideal for use in stairs and ramps but not very effective in wet areas. It must be fixed properly on edges and joins to avoid trips, falls and slips.
Steel plate 
Steel plates with a raised pattern can deliver good slip-resistance. It is commonly used in factory areas in heavy traffic areas or to span openings in floors. However, it can be slippery when wet or oily.
Timber 
Timber wood is perfect for gymnasiums, factories, offices and meeting halls for dry floor surfaces. However, to prevent it from becoming slippery from the absorption of oil and water it is important to seal it and not polish it.
Where Slip Doctors Sydney comes in 
As mentioned earlier, Slips Doctors Sydney is one of the leading providers of anti-slip solutions and tile treatments. With years of experience in this field, delivering the best solutions to commercial industries, Slip Doctors uses a non-slip tile treatment which consists of an acid-based formula. This formula creates micro-etch in all types of flooring material – ceramic tiles, porcelain tiles, granite, marble, glass mosaic, marble, limestone and more – making microscopic alterations to the surface. This results in grip and makes the surface safe and free from slips, falls and trips.
Not only does anti-slip floor treatment prevent slip hazards but it also:
Maintains a hygienic and compliant environment by helping to eliminate crevices where germs hide and thrive.
Prevents the floor from showing signs of wear and tear. Commercial floors need to withstand exposure to a large array of varying temperatures, substances and weights. By treating the surface, you can avoid costly repair and downtime.
Ensures that your epoxy floors are more durable and harder, and less resistant to scratching.
The bottom line 
To avoid slips, falls and trips, select the flooring material that best suits your workplace's design, tasks and activity performed in all areas. In the first instance, slip testing provides a measure to keep your workspaces slip-resistant and safe for your staff, consumers and clients. Slip-resistance is not something you can ignore.
Slip Doctors Sydney can advise you on the best way to seal your floor surfaces to keep slips, falls and trips at bay. We collaborate with you every step of the way and ensure we cause no inconvenience to your workday. Always cleaning up every ounce of mess we leave, we guarantee you that our high-quality anti-slip treatments will last you for many years. Contact us today for a free anti-slip treatment sample and quote.