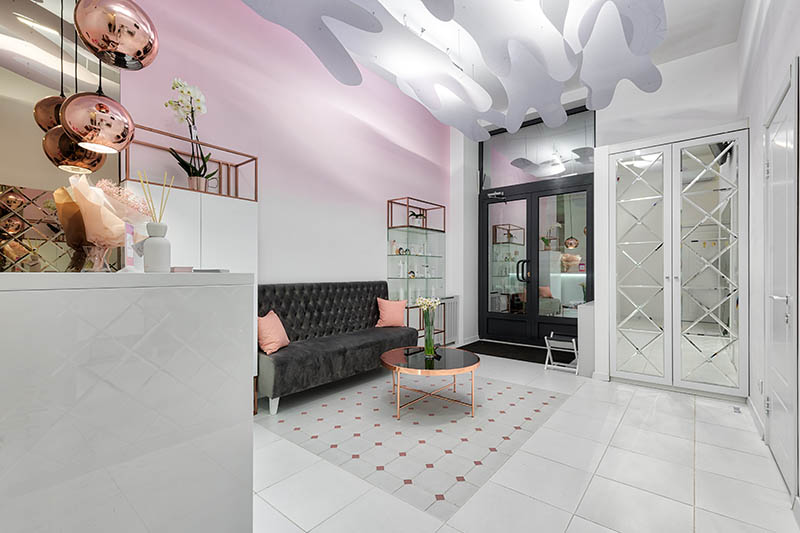 Do you have ceramic tiles on your floors? If so, you are probably aware not only of their benefits but their disadvantages too. While ceramic tiles are aesthetically pleasing and retain water much better than other types of floorings, they can be incredibly slippery, especially when wet. And of course, slippery floors can lead to all kinds of injuries, which we obviously don't want.
The first thing you want to look at is your cleaning products. When soap residue remains on the floor it is a cause for slippery tiles. So, you must ensure that you remove the residue when cleaning them. If this proves to be the issue, consider using less soap or introduce a second mop to go over the floors with plain water. If this does not resolve the issue, you may need to consider alternative changes.
Before we explore a variety of changes, and if you have only a minute to spare, we will take a quick look at the short answer.
How to make your ceramic tiles less slippery?
Should you require an inexpensive and easy to install method you need to add traction to your slippery floor. Rugs and anti-slip adhesive treads will do this.
However, the best route is to apply an anti-slip treatment. The solution is acid-based and creates microscopic alterations to the tile's surface without changing its appearance but instead producing grip to make it safe.
If you are ready for a large project, you can either dismantle the slippery tiles and install non-slip tiles or apply a floating floor. However, not only are these options costly but time-consuming too.
Now, we will look at these options in greater detail.
Anti-Slip treatment and solutions for ceramic floor
Non-slip rugs 
Using non-slip rugs to prevent slippery flooring is probably the cheapest and easiest method. As well as being anti-slip, rugs can liven up a room while making it cosier.
But be sure to purchase rugs that have non-slip backing because not all rugs are the same when it comes to safety. Loose rugs and rugs with curled corners are a tripping hazard. If you already have rugs, you can increase their safety by sticking non-slip rug pads underneath.
You might want to combine non-slip rugs with the anti-slip treatment method so that you do not need to worry about slipping on larger uncovered areas. Always ensure your rugs are secured properly to the floor.
Anti-slip adhesive treads 
Adhesive treads are a popular method to prevent slipping on slick ceramic tiles and are particularly useful for stairs or smaller surface areas. Similar to the grip tape on skateboards, treads can be purchased in tones ranging from transparent to black and come in different sizes.
It is important that you test the adhesive treads in an inconspicuous area before applying them to larger areas. This is to ensure they affix properly to your floors and do not cause any long-term damage to their surfaces.
Done correctly, anti-slip treads are a simple and practical way to add friction to floors without completely covering the tiles or altering the room's appearance too much.
But you should know before entrusting this method that although adhesive treads blend in with the tiles, they are still visible. Before applying them ensure that air and dirt do not get trapped underneath and that you lay them completely flat, or they could peel.
Over time they may attract pet hair and dirt and can leave behind sticky residue when removed. But residue can be easily eradicated with warm, soapy water.
Key point – anti-slip adhesive treads are cheap and easy to apply and do not alter the floor's appearance too badly.
Replacing slippery tiles 
First and foremost, we must highlight here that replacing floor tiles just because they are slippery is ill-advised. It would be plausible if your tiles are old or damaged, or if you had planned on replacing them anyway.
On one hand, installing new tiles is an expensive and labour-intensive way of making your tiles less dangerous. On the other hand, it could give you incredible results.
Anti-slip treatment 
If rugs, adhesive treads and giving your tiles an overhaul are not your thing, step it up a notch and opt for anti-slip tile treatment. Anti-slip solution is an acid-etching formula that creates micro-treads on mineral-based surfaces. Microscopically corroding the surface, anti-slip solution makes the material less slippery, and even when wet it is long-lasting.
Leading providers of anti-slip solutions in Sydney, Slip Doctors Sydney guarantee you a high-quality anti-slip treatment in Sydney that will last for many years. Even when wet or contaminated with liquid-like grease, oils and cooking fat, your ceramic tiles will not be slippery
Related Posts:
Final thoughts 
Even if you are on a budget, you can make your ceramic tiled floor safe quite easily. These four methods are effective in preventing slippage. Aside from replacing tiles, they are also relatively inexpensive. However, rugs and treads can dramatically affect a room's appearance.
While replacing tiles and installing floating floors are lasting, they are also time-consuming and expensive. However, as a more permanent solution, this method is ideal if you are undergoing a renovation or redesign.
When deciding on a solution, it is essential you consider the overall look of your home and carefully weigh up the pros and cons of each option before making a commitment as some can't be undone.
But if you decide on an anti-slip tile treatment that will give you the best outcome, your first choice should be Slip Doctors Sydney.